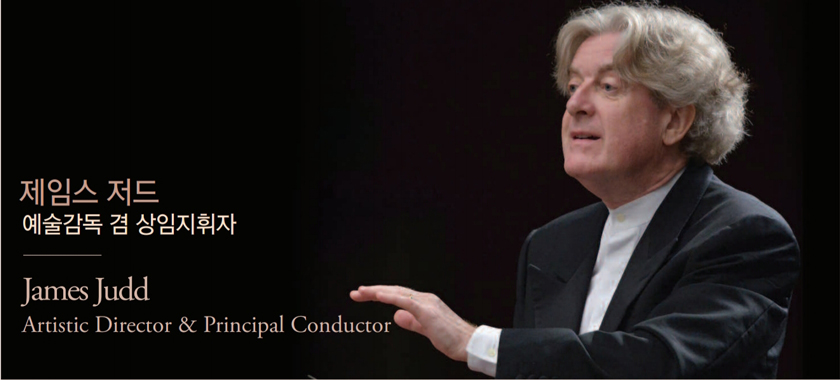 Music Dtrector of the Daejeon Philharmonic Orchestra of Korea, Slovak Philharmonic Orchestra, and the Little Orchestra Society New York, British conductor James Judd is sought after for both his passionate musicianship and charismatic presence on and off the podium. Known for his extraordinarily communicative style and bold, imaginative programming, repeat engagements from Prague to Tokyo, from Istanbul to Adelaide, attest to his rapport with audiences and musicians alike.
During his eight years as Music Director of the New Zealand Symphony Orchestra, Judd brought the ensemble to a new level of visibility and international renown with acclaimed recordings for the Naxos label, tours of Europe and Australia and the Orchestra's first appearance at the BBC proms. His music directorships have included principal Guest Conductor of the Orchestra National de Lille in Frace and 14 years as Music Director of the Florida Philharmonic Orchestra.
Deeply committed to music education, James Judd has led the Orchestra of the Juiliard School, Curtis Institute of Music, Manhattan School of Music, Guildhall School, Trinity College of London, Aspen Music Festival and the National Youth Orchestra of Australia and New Zealand. Since 2007 he has been Principal Guest Conductor of the Asian Youth Orchestra, an ensemble of the most gifted musicians from mainland China, Hong Kong, Japan, Thailand, Vietnam, Taiwan, Philippines, Malaysia, Singapore and Korea.
Recenr highlights have included performances of Britten's War Requiem in Bucharest and Bernstein's Mass at the Radio France Festival, staged performances of Carmina Burana at the spectacular desert ruins of Masada, the Monte Carlo Philharmonic at the Royal Palace in Monaco, a month long tour with the New Zealand Symphony and Renee Fleming. Last season featured concerts with the Philadephia Chamber Orchestra, the Santa Barbara Symphony, the Slovenian National Orchestra, the Noord Nederlands Orchestra and Vadim Repin, a series of concert in Switzerland with the Argovia Philharmonic and a recirding with the Royal Philharmonic Orchestra and Thomas Irnber for Gramola, three concerts in Berlin as part of the celebrations in the famous Konzerthaus of Yehu야 Menuhin's centenary, a tour to China and two concerts with the Vienna Concert Verein in the inaugural month of the magnificent new Dubai Opera, as Well as in the Musikverein.
The current season features a major tour of Asian and European destinations with the opening of the Bratislava Festivak, concerts with his Daejeon Philhamonic and Slovak Philharmonic Orchestra.