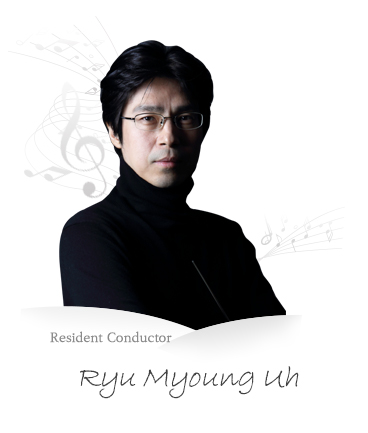 Resident Conductor
Ryu, Myoung-uh
Myoung-uh Ryu had his bachelor degree in piano from Seoul National University and Diplom from Hochschule fur Musik und Darstellende Kunst in Frankfurt, and Hochschule fur Musik in Koln for orchestral conducting. He also participated in master classes of Gianluigi Gelmetti in Accademia Musicale Chigiana in Siena, Italy, and those of Roman Kofman sponsored by Beethoven Orchestra in Bonn, Germany.
While he was in Musikhochschule Koln, Ryu became recognized for conducting several Ensembles and Orchestras of Musikhochschule Koln in many concerts and opera performances including 'Chamber Music Concert' in Triennale Koln(2004), Ballet performances and the Annual Opera Project 'Le Nozze di Figaro'.
His carrier has progressed since his graduation. He served as a Conductor of Music Education College Orchestra at Musikhochschule Koln, Musical Assistant of Sondershausen Summer Festival 2016, Opera Coach of Opera House Osnabruck, Live pianist of the ballet performance 'Ring of Nibelungen' in Opera House Bonn and Conductor of Youth Chamber Opera Koln for operetta 'Orphee aux Enfers'.
As an Opera Coach and Deputy Chorus Master of Badisches Staatstheater Karlsruhe, he has worked on projects including large choral works including Verdi's 'Requiem', and Mahler's 'Symphony No. 8', and over dozens of operas such as Britten's 'Death in Venice', Puccini's 'Turandot', and Strauss' The 'Woman without a Shadow'.
Ryu has been appointed as a Assistant Conductor since 2009 and became the Resident Conductor from 2014, conducting over 20 concerts a year with Daejeon Philharmonic Orchestra. In particular, he continuously conducts operas and gala concerts in Korea. Higlights of his works includes Rossini's 'Cinderella', Puccini's 'Toscal', 'Madam Butterfly', Verdi's 'La Traviata', Mozart's 'Don Giovanni', 'Cosi fan tutte', Donizetti's 'Lucia di Lammermoor' and Bizet's 'Carmen' with Daejeon Opera Company, Daejeon Arts Center and Mongolian State Academic Theatre of Opera and Ballet.
Ryu had served as a Principal Guest Conductor of Mongolian State Academic Theatre of Opera and Ballet and collaborates as a guest conductor with various orchestras such as KBS Symphony Orchestra, Korean Symphony, Gwangju Symphony Orchestra, Daegu Symphony Orchestra, Chungnam Philharmonic Orchestra, Gyeongsangbuk-do Provincial Orchestra, Pohang City Symphony Orchestra, Jeonju Symphony Orchestra, and Chuncheon Philharmonic Orchestra. He currently teaches at Hanyang University and Korea Baptist Theological University.