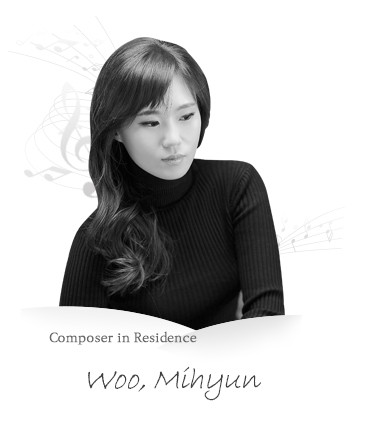 Composer in Residence
Woo, Mihyun
Mihyun Woo received a Ph.D (Composition) at the Royal Academy of Music where she gained a distinction in her MMus degree and was awarded scholarships and the Mosco Carner Composition Prize. Her Recent professor is Simon Bainbridge, Paul Patterson and Michael Jarrell.
Mihyun has made an impressive start to her career in both Korea and Europe, winning commissions and prizes. Among Mihyun's prizes are : 1st Prize at the International Composition Competition "A. Rendano"2015 , chamber orchestra section. (Italy), Prize at the Pusanmaru International Composition Competition 2014 (Korea), 1st Prize at the Alan Bush Prize 2014 (U.K.) 3rd prize at the Ninth International Competition "Young Virtuosos" 2013. (Bulgaria), 'Grand prix'(1st) prize at George Enescu international composition competition, chamber music section (2011, Romania), 2nd prize at Erick Court composition Prize 2011(U.K.) 'Special Mention' Award at Val Tidone International Music Competitions-orchestral music section 2010(Italy), 'Artist-in-residence prize'-orchestral music section at George Enescu International Composition Competition (Romaia), 1st prize in the KBS (Korean Broadcasting System) orchestral music competition 2006 (Korea), 1st prize at Um Ak Journal Music Competition 2005 (Korea),2nd prize at the 27th Asian composer's League composition competition 2004 (Korea), 2nd prize at Pusan orchestral composition competition 2004 (Korea), Finalist at the 3rd Seoul International Music Comeptition 2003(Korea), 1st prize at the 25th Chang Ak composition competition 2002(Korea), 1st prize at the 19th Young Nam composition competition 2002 (Korea), Young Composer Award at The 20th Anniversary Korean Women Music festival 2001 (Korea) and 1st prize at national student's music competition sponsored by Seoul City University 1997 (Korea).
Mihyun's compositions have been performed by ensembles and Orchestras such as London Symphony Orchestra(U.K.) London Philharmonic Orchestra,London Sinfonietta, Arditti Quartet, Webern Symphony Orchestra(Austria) Royal Academy Soloists, Seoul Philharmonic Orchestra(Seoul),KBS (Korean Broadcast System) Orchestra(Seoul) ,Bacau Philharmonic Orchestra(Romania), Prime Philharmonic Orchestra (Korea), Royal Academy symphony, Choir Commotio (U.K.), ICP ensemble(France),EBC(Enotria Brutia Classica) Contemporary ensemble(Italy), Ossia Contemporary Ensemble (U.K.), Contemporary Ensemble SORI, Daejun Philharmonic Orchestra, Andiemusik chamber orchestra (Korea) , Thegenbals Ensemble (Korea) etc.
Also her pieces were selected for: The 9th Thailand International Composition Fstival 2013 (Thailand), ISCM international music festival 2013 in Orchestral Music section(Austria) , ARKO(Arts Council Korea) Orchestral Music Festival 2012 (Korea),
'International Composer Pyramid' of Sounds New Contemporary Music Festival 2012 (2011, U.K.) London Symphony Orchestra's Panufnik Young Composers Scheme (2011,U.K.), London Philharmonic Orchestra's Young Composers Scheme(2010 U.K.), 'Arditti Quartet and Wolfgang Rhim Project' opened by BBC Symphony Orchestra and BBC Radio 3(2010 U.K.), a reading session with Seoul Philharmonic Orchestra, composer Unsuk Chin and renown conductor Susanna Malkki (2010 Korea), the 41st Seoul Music festival in orchestral music section (2009 Korea), Messian music festival, titled 'From the Canyons to the Stars' planned by Southbank centre (2009, U.K.), Sounds New Contemporary Music Festival, Canterbury (2007 U.K.), Korean Contemporary Choir Music festival (2004,Seoul Art centre), the 36th Seoul Music festival(2004),Music Today 2003, Seoul International Music festival(2003), the 35th Seoul Music festival (2003), the 33rd Seoul Music festival (2001), The 20th Anniversary Seoul Women Music festival (2001) and Nanpa Music festival (2000, Korea).
Her orchestral piece 'Macrocosmos' a commission from the Gorge Enescu Museum, was performed in Romania 4th, November, 2010. A commission is from Royal Academy Symphony Orchestra. It was conducted by Yal Pascal Tortelier, on 21st, January, 2011. Also, one is from London Philharmonic Orchestra. It was performed by LPO at Queen Elizabeth Hall, Southbank Centre on 8 June 2011. Recent concert was with London Symphony Orchestra. Her orchestral piece was performed by LSO and conductor James Macmillan in January 2012. Also one was with Prime Philharmonic Orchestra(Korea) and Korean conductor Kisun Sung at the National Theater of Korea. In the annual contemporary music festival in Vienna, Wien Modern Music Festival 2013, her orchestral piece had been slected and played at the ORF radio concert hall in Austria on 13th,nov,2013. The upcoming event is a commission for the 2015 season of REBUS contemporary music festival which will be held at the Teatro del Verme in Milan.